For the last few weeks Fumbally Exchange hosted an exciting pop-up shop - Revival by CRNI - project funded byEPA, it  aims to promote the concept of reuse and redesign  by showcasing  beautifully crafted second-life items.  Revival by CRNI held also some fantastic workshops promoting quality redesigned and reused goods and demonstrated useful and fun upcycling techniques. It is time to say good bye to our pop-up shop, Dr. Joanne Rourke, Network Coordinator at Community Reuse Network shares with us some reflections about the time spent with us.
'Popping up at Fumbally' – Revival by CRNI
How time flies! Just 12 weeks ago we were painting walls (mid French grey) and ladders (mint green), staining vintage wine boxes (brownish), sorting our stock and dressing the stunning front window of the pop-up shop space in the Fumbally Exchange at 5 Dame Lane. Our pop-up shop, Revival by CRNI is a bold and beautiful haven of wonder and brightness and we feel very much part of the Fumbally Exchange family.
Revival by CRNI is a pop-up shop with a difference! It's a shop, of course. But it's also an environmental project funded by the Environmental Protection Agency (EPA) and aimed at promoting the concept of reuse.
Reuse is recycling's more sophisticated big sister. It's more environmentally sound than recycling, helping to reduce waste and to conserve precious natural resources. Reuse also involves a good deal of creativity, innovation and lateral thinking.
Revival by CRNI showcases a range of upcycled products and reuse services – upcycled furniture, redesigned fashion, refurbished bikes, reconditioned laptops, art materials from end-of-line items and free on-line swap shops for households and businesses. The products in our pop-up shop are quirky, funky and imaginative. They are also well designed, expertly finished and we are so, so proud of the craftsmanship that goes into these pieces.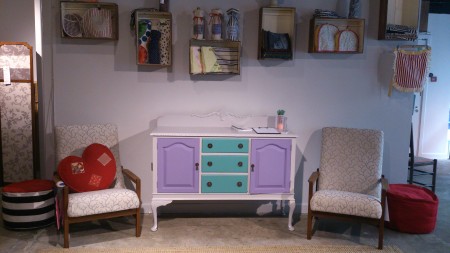 By transforming the stuff people normally throw out we hope to transform the way people think and shop. Turning people on to the potential of reuse will help to divert perfectly good materials away from landfill and towards a second life.
Promoting reuse skills is an important part of the Revival pop-up project. To this end, we have a range of free workshops where adults and children can try out. These include clothes redesign, building pallet furniture, chalk painting techniques and, well, it's probably easier to check our Facebook page to get the full picture.
The Fumbally Exchange space has proved to be a wonderful display case for both the concept of reuse and the reused items we make. It helps immensely that the Fumballiers both as a collective and as individuals really 'get' the project and the concept.  Their help and encouragement has been a godsend to us gals in the shop.
When the painting and cleaning and arranging was all done and we opened our door for the first time, and we waited for the reactions and ….. they exceeded our expectations! We get about 50 people per day into the shop, the vast majority of these engage with us. They fall in love with particular pieces and, tell stories of their own reuse and upcycling achievements.
As we move towards the end of our pop-up adventure at the Fumbally Exchange we increasingly get asked if we'll do more Revival pop-ups …… we'd love to of course and we're having a think about it. In the meantime, we are planning to exhibit some of our pieces in the wonderful Third Space venue in Smithfield. So if you're missing us at all - you can pop in there for a coffee and a Revival by CRNI fix!
Photography curtesy of Revival by CRNI [Photo credits to: Marc O'Sullivan]