Graham Thew is a well known Graphic Designer, who shares his love for drawing with our Fumballiers every Friday at lunch time. It is a great initiative that we would like to explore with you more. Here is an interview with our Fumballistic teacher.
Do you have any previous experience as a teacher?
No, never! It's my first time teaching.
What does drawing mean to you?
I would say it's both a hobby and a part of my work. I don't get enough time to spend on it as a hobby. Also, I'm not an illustrator, so traditional drawings don't really play a big role in my everyday work.
Why have you organised the drawing classes at Fumbally?
I knew Fumballiers would be receptive to drawing classes, based on conversations I've had with them. I thought it would be a great way for the people at Fumbally to explore and develop their artistic potential. It's also a brilliant way to switch off from your workday. And I thought it would be a good opportunity for me to spend some time drawing.
Who are the classes for?
The classes are for everyone – from the absolute beginner to the more accomplished artist. My aim is for everyone to be surprised by what they can produce, irrespective of ability or experience.
Where and when are they?
It happens every Friday at lunchtime (1pm) in free meeting rooms of the ground or 1st floor.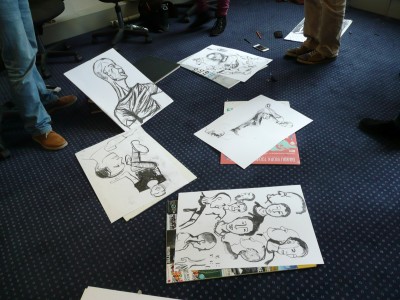 What are the lessons like?
We usually start off the class with some warm-ups, quick sketches using things we learned the previous week. I also try to teach new technical skills each week. Then I look at everyone's homework and have a chat about that. We finish up with something fun like drawing with the wrong hand or without looking.
What skills are your students learning?
Lots of skills – learning new drawing techniques, developing new ways to look at the human form, using parts of the brain you don't usually access. It's a more traditional type of drawing using techniques from the Renaissance. People learn about the proportions of the human body. The students are becoming more confident about their own drawing abilities and are even discovering hidden talents.
How would you describe your students' skill levels?
Really impressive! Everyone has shown terrific ability, and those who didn't have much experience are coming along nicely. I am genuinely thrilled at the quality of work being produced.
What's the atmosphere like during class?
Calm and fun. Everyone is super focused and there to learn and enjoy the experience. I'm impressed at the class's attitude. Everyone is working hard and having fun. There's lots of concentration & laughter.
What do you think?
I can't tell you how much I enjoy these classes. I really am blown away at the turnout, the work being produced. It's much more than I was expecting, and I'm really surprised to see that more people come each time. I look forward to our meeting every week and seeing their progress. It inspires me to get back to my own drawing and painting. And, I can tell you, I'm very excited about producing something for an exhibition.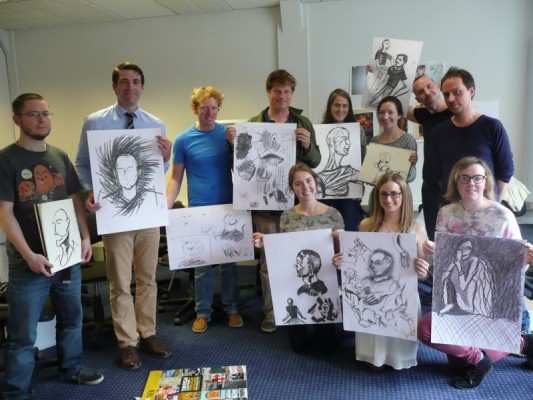 Some of our Fumballiers shared with us theirs thoughts about  Graham's drawing lessons:
"Graham's art class is a total treat and is a testament to all that is good at the Fumbally Exchange. The Fumbally Exchange provides an environment where we can learn and interact with people who have different skill sets and ways of thinking. In this art class we have the privilege of getting inside the brain of a top illustrator and designer, Graham Thew, who also as it turns out is an excellent teacher. The class is really open and enjoyable. The improvement in all of us is great, and a Friday lunchtime class is a great boost to avoid that end-of-week slump. I look forward to it every week and hope Graham is getting half as much out of the class as we are! Thanks Graham!" -Olivia
"This Art class is a perfect example of how Fumbally is working: sharing skills and evolving together.
It's nice to have a real motivation to draw more in our work fields, and this class is giving me so much motivation to sketch more often. The progression is huge, and it's good to have this personal approach which will develop our skills and our own drawing personality. The idea of the coming exhibition is very exciting as well and Graham is a great and patient teacher!
Thank you for this initiative, that's brilliant!" – Claire
Interview by Julie Graindorge